WWE European Championship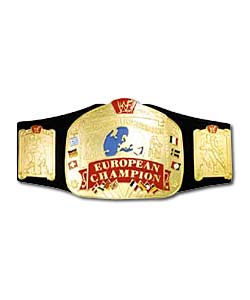 | | | | |
| --- | --- | --- | --- |
| Champion | Date Won | Location | Notes |
| Davey Boy Smith | February 26, 1997 | Berlin, Germany | -a- |
| Shawn Michaels | September 20, 1997 | Birmingham, England | |
| Triple H | December 11, 1997 | Lowell, MA | -b- |
| Owen Hart | January 20, 1998 | Davis, CA | -c- |
| Triple H [2] | March 16, 1998 | Phoenix, AZ | |
| D-Lo Brown | July 14, 1998 | Binghampton, NY | |
| X-Pac | September 15, 1998 | Sacremento, CA | |
| D-Lo Brown [2] | September 29, 1998 | East Lansing, MI | |
| X-Pac [2] | October 18, 1998 | Chicago, IL | |
| Shane McMahon | February 15, 1999 | Birmingham, AL | -d- |
| Mideon | June 21, 1999 | Memphis, TN | -e- |
| D-Lo Brown [3] | July 25, 1999 | Buffalo, NY | |
| Jeff Jarrett | August 22, 1999 | Minneapolis, MN | |
| Mark Henry | August 23, 1999 | Ames, IA | -f- |
| D-Lo Brown [4] | September 26, 1999 | Charlotte, NC | |
| Davey Boy Smith [2] | October 26, 1999 | Springfield, MA | |
| Val Venis | December 12, 1999 | Ft. Lauderdale, FL | -g- |
| Kurt Angle | February 8, 2000 | Austin, TX | |
| Chris Jericho | April 2, 2000 | Anaheim, CA | -h- |
| Eddie Guerrero | April 3, 2000 | Los Angeles, CA | |
| Perry Saturn | July 23, 2000 | Dallas, TX | |
| Al Snow | August 29, 2000 | Fayetteville, NC | |
| William Regal | October 16, 2000 | Detroit, MI | |
| Crash Holly | December 2, 2000 | Sheffield, England | |
| William Regal [2] | December 4, 2000 | East Rutherford, NJ | |
| Test | January 22, 2001 | Lafayette, LA | |
| Eddie Guerrero [2] | April 1, 2001 | Houston, TX | |
| Matt Hardy | April 23, 2001 | Denver, CO | |
| Hurricane Helms | August 27, 2001 | Grand Rapids, MI | |
| Bradshaw | October 22, 2001 | Kansas City, MO | |
| Christian | October 30, 2001 | Cincinnatti, OH | |
| Diamond Dallas Page | January 29, 2002 | Norfolk, VA | |
| William Regal [3] | March 19, 2002 | Ottawa, Ontario | |
| Spike Dudley | April 8, 2002 | Phoenix, AZ | |
| William Regal [4] | May 6, 2002 | Hartford, CT | |
| Jeff Hardy | July 8, 2002 | Philidelphia, PA | |
| Rob Van Dam | July 22, 2002 | Grand Rapids, MI | -i- |
-a- Defeated Owen Hart in the finals of a tournament to become the first champion.
-b- Michaels is ordered to defend the title by WWF Commisioner Sgt. Slaughter and lays down for Helmsly to win the belt.
-c- Defeated Goldust, who was dressed as Helmsley. Slaughter awards the title to Hart.
-d- Pinned X-Pac in a tag team match; Abandons the title on April 4, 1999.
-e- McMahon awards the belt to Mideon after he finds it in Shane's bag.
-f- Awarded the title by Jarrett after Henry helps him defeat Brown the night before, winning both the Intercontinental and European titles.
-g- Defeated Smith and D-Lo Brown in a triple threat match.
-h- Defeated Angle and Chris Benoit in a triple threat match.
-i- Defeated Hardy in a ladder match to unify the Euopean and Intercontinental titles.
page revision: 1, last edited: 08 Jun 2008 01:37